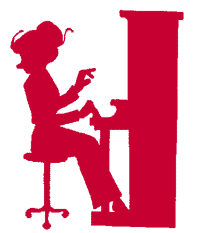 Level Five
ADVANCING GROUP PIANO
GRADES 3-6
Advancing Group Piano (Year 5) builds on the groundwork laid down in beginning piano. There is an increased emphasis on reading music, using intervals and recognizing notes. In addition, this level begins the transition from Ta Ti-Ti counting to traditional counting using numbers, and naming rhymic values with fractions. The harmonic parts for the left hand increase in complexity, and full chords are introduced.
The 6 week summer class is a fast-paced bridge between the levels. We do a new, rich piece each week or two, reading patterns, and working on guide notes. I know that summer is a difficult time to commit to attending every lesson. Missed lessons are made up with video, and, if needed, extra lessons with helpers. In the past, all students taking this class were able to keep up, even with 2-week-long vacations disrupting their attendance. There will be 2 makeup lessons held on the first two Tuesdays of September, at 6:00, for students who need to miss 2 or more lessons from this session. In addition, there will, of course, be weekly class video, with details of the lesson material.
Cost:
Summer Advancing Piano Class $370, $185 due March 1
Academic Year Class $540/semester, due twice yearly*
Materials fee: $100/academic year
Times and Dates:
Summer Classes meet weekly from May 22-July 1. Three class times are currently available:
Monday 4:30- 5:30, Wednesday 6:15-7:15, Saturday 12:15-1:15
Academic Year Classes meet weekly from September 18, 2017- April 21, 2018. Three class times are currently available:
Monday 6:00-7:00, Tuesday 6:00-7:00, Saturday 2:00-3:00
$185 deposit for summer class due due immediately to hold spot. Balance ($185) due at first class. $100 materials fee for academic year due April 1. Semester payments are due September 15 and January 15.
*or $120/month installment plan