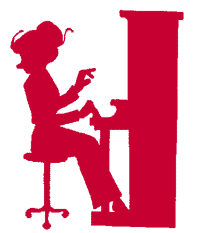 Level Four
GROUP PIANO
GRADES 2-5
Group Piano (Year 4) builds on the groundwork laid down in the first three years of the curriculum. Classes focus on the special nature of keyboard music- reading the bass clef, playing two different parts, using open fifths to harmonize melodies, etc. Students either work on reading music or playing on instruments for the entire 75 minute lesson each week, commonly working one on one with both the teacher and the group of trained and experienced interns.
An exciting addition to the program is the required, 4 week, summer dulcimer class, in which the students build their own mountain dulcimer, learn to string and tune it, and begin learning how to play on it.
Activities:
Individual expression through improvisation, composition, vocal exploration, and movement
Writing and reading music
Deciphering music notation at the keyboard
Using arpeggios (broken chords) to explore the resonance of the instrument
Transposing music between the keys of C, F, G
Beginning improvisation
Playing by ear for fun
Cost:
Summer Dulcimer Class $260 (for 4 classes, includes all materials)
Academic Year Class $545/semester, due twice yearly*
Materials fee: $100/academic year
Times and Dates:
Summer Dulcimer Classes - Prerequisite for academic year classes- please choose one section
Session 1 (5/11-6/2)

Section A Monday

Section B Tuesday

6:00-7:30 5/11, 5/18, 5/25, 6/1

4:30-6:00 5/12, 5/19, 5/26, 6/2

Session 2 (9/12-9/13)

Section C Saturday and Sunday

10:00-1:00
Academic Year Classes meet weekly, September 21 2020- April 17, 2021.
| | |
| --- | --- |
| Class | Parent Meeting |
| Wednesday 6:00-7:15 | Sunday, 9/20, 6:30-7:45 |
| Saturday 12:45-2:00 | Sunday, 9/20, 6:30-7:45 |
$130 deposit for summer dulcimer class due due immediately to hold spot. Balance ($130) due at first class. $100 materials fee for academic year due April 1. Semester payments are due September 15 and January 15.
*or $125/month installment plan